The department provides videoconferencing, distance learning, web meeting and streaming video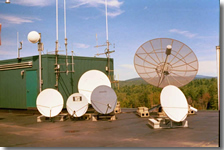 and audio for the Dartmouth-Hitchcock Medical Center. It serves both the Dartmouth-Hitchcock health care system, and its affiliated organizations.

The videoconferencing services range from grand round lectures to point-to- point and multi-site meetings. We also provide web conferencing, 24/7 archived lectures via the web and satellite reception.
Clinical Echocardiography 2014
Managing Medical Emergencies: For Physicians Working in Emergency Depts
Regional Program for Women's and Children's Health
Aging Center On-line Videos and Podcasts

Dartmouth-Hitchcock Medical Center
Videoconference Services
1 Medical Center Drive
Lebanon, NH 03756-0001
Raymond P. Kulig, Manager
E-mail us to schedule services or if you have specific questions about which service is right for you (raymond.p.kulig@hitchcock.org). You may also call us at 603-650-8819.